VIU Coliving & Coworking Barcelona, Spain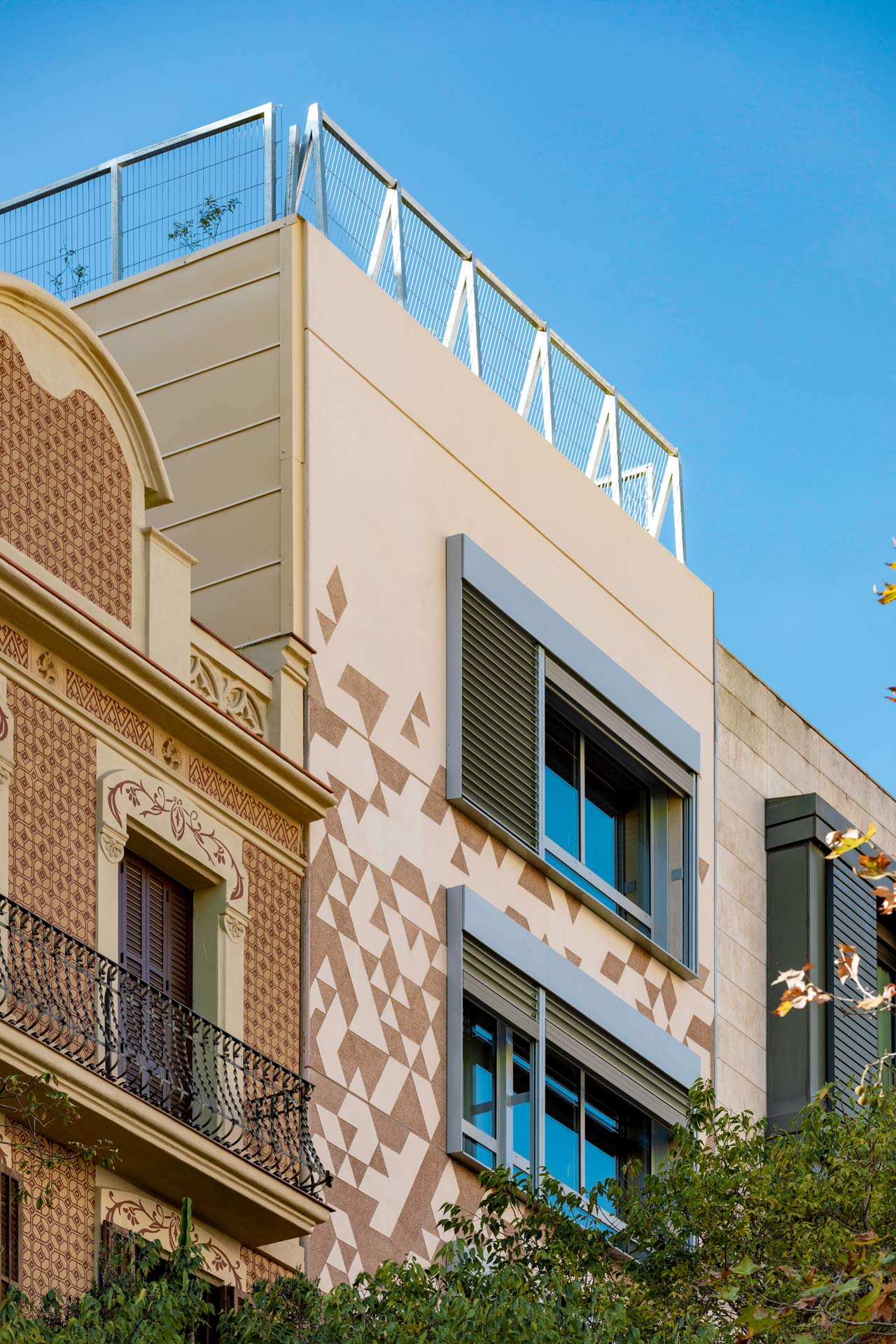 More information
Project: PICHARCHITECTS/PICH-AGUILERA
Project Manager: VIULepanto
Construction: GRUP MAS
Structural Calculation: PICHARCHITECTS/PICH-AGUILERA
Project management: Felipe Pich-Aguilera
Executive direction: Josep Domenech. ENVIME
Facilities consultant: Ramón Navés. MAFOIMOGEP
Environmental impact certification and monitoring: Energreen Design
General information
The Lepanto project is a building for housing and workspaces, which proposes new ways of living and working in urban centres, actively integrating into the local community. The building incorporates passive strategies to improve comfort and seeks to reduce the impact of the work through dry construction, reduced consumption of materials and the use of resources with the least environmental impact.
Location
The project completes a small urban void, with a significantly deteriorated old building. The plot is narrow and irregular, with the typical characteristics of the Ensanche neighbourhood of Barcelona – density, great depth between party walls, interior patio with lights, uniformity of the cornice level and alignment of the façade-. These urban conditions have shaped a characteristic personality of the neighbourhood, which we transfer to our project, adapted to the circumstances of the current time.
Interiors
The main objective of the building is to foster a community that lives and works in it. The program is structured around a staircase and a central patio, which serves two living units on each landing, with flexible typologies that favour very diverse uses.
On the roof, there is a living space with direct views of the Temple of the Sagrada Familia. The ground floor, attic and semi-basement are common workspaces for residents and non-residents of the building. The basement has a communal service area
Exteriors
The main façade is made up of precast concrete panels, stained and stripped, which achieve, in an industrial way, the ancient artisan tradition of "sgraffito" stucco, so present in the memory of our city.
Sustainability and circular economy
The very typology of the building works as a whole as a basic bioclimatic system; Inertial slabs, continuous well-insulated envelope, solar modulation in the openings and a central patio proportioned to activate the transversal ventilation of the rooms and their diffused lighting.
All housing units are designed to make the most of wind currents through an interior patio that promotes cross ventilation. The windows are also used to have as much natural lighting as possible inside, taking into account the necessary solar protection to avoid direct radiation in summer without compromising the views to the outside.
Most of the construction components are assembled and removable.
Work has been done throughout the entire project and work so that the materials have the least environmental impact, avoiding finishes, promoting certificates of origin, and recycled materials, analyzing their complete life cycle, as well as the potential management of their disassembly.
Read more here (coming soon)