Sustainable and modular single-family homes Barcelona, Spain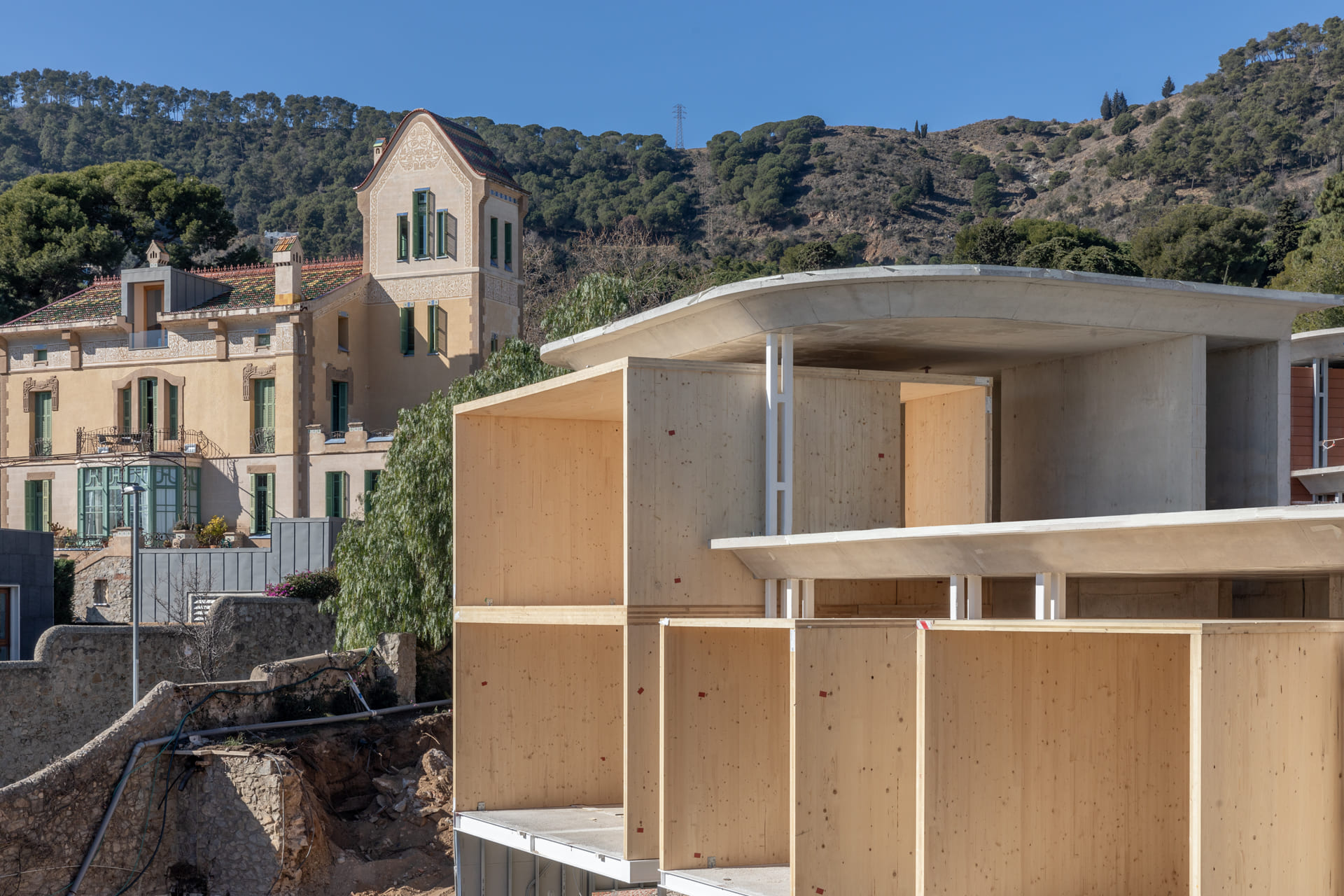 General information
The project is currently under construction and is located in Barcelona in a residential area of the city. It has 3 single-family homes on the same lot, each one with a private area and a common garden area that encourages coexistence between neighbors.
Location
The aim was to integrate the urban environment and the unevenness of the typography in the design to maximize the relationship between the interior and exterior of each house, with a terrace that allows each house to have views of the city and the real areas, and the integration of the complex in the rest of the vegetated plot.
Exteriors
Lon buildings were designed to maximize natural comfort, and minimize energy demand. Designed according to the characteristics of the Barcelona climate, with solar protections on the south-facing facades and on the roofs. On the north-facing façades, large-mass concrete elements were placed to take advantage of thermal inertia and prevent heat loss in that orientation. In addition, these concrete walls with fewer openings allow for privacy between the houses.
As construction systems, the most interesting thing about the proposal is that each system responds to a purely structural function and at the same time is closely linked to what is the functional use of the houses and their thermal behavior.
The concrete in the north wall has a rigid core, which, in addition to regulating the interior temperature in relation to the exterior, houses all the facilities, stairs and bathroom cores. There is also a metallic structure that will support the wooden modules (rooms), a very light structure with a minimum of material. And finally the wooden modules that are already the visible finish. This fact allows to industrialize all the rest of the elements to the maximum (except what is built in situ such as concrete), and with a highly modulated system that also gives a very high future flexibility. These modules, due to the material itself, make it possible to avoid the need for any type of coating and give warmth to the home.
Sustainability and circular economy
The project will have a class A energy label, despite not having any other environmental certification, it is designed to meet the criteria of the VERDE environmental certification.
The project is accompanied simultaneously by the office's R&I department, analyzing the industrialization of the project to verify the cyclability of the systems and improve them for use in subsequent projects. A detailed work to adapt the specificity of a housing project of this type with the possibilities of the construction industry and its systems of assembly, assembly and complementarity between each other.