Residential building in Sant Adrià del Besòs  Barcelona, Spain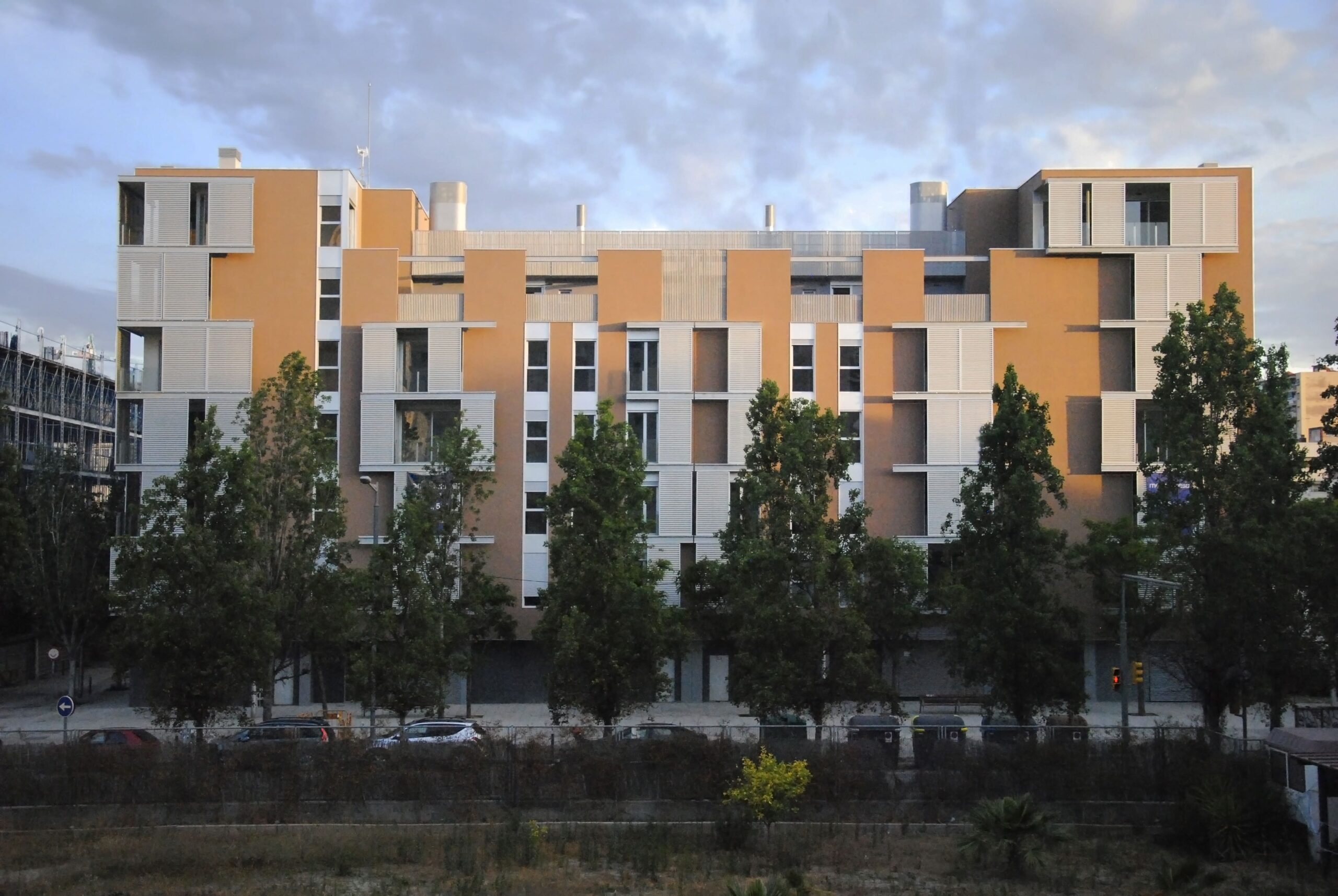 Project details
Year: 2021
Tipology: Residential
Photography: Arduino Vannucchi, Ana González, Claudia Antonacci
General information
The Project meets the demand of a real estate developer in order to provide housing for sale at the diffuse end of the city, which is in process of consolidation, between Barcelona and Sant Adrià del Besós.
Location
Our building takes the form of a prism, apparently compact. It is laid out along the Ramon Llull Street, qualifying it by the alignment of its façade and the layout of the shops on the ground floor, alongside the neighbours' entrances.
The building orients its longitudinal faces to North and South. This condition determines the arrangement of the apartments and the groups, and the aim is to manage to get the minimum units exposed to the North.
Interiors
Each typology is assembled through a terrace inserted in the distribution, a space that absorbs the high solar incidence and that becomes an articulation between indoor and outdoor. A system of sliding solar panels allows modulating the light, the views and the wind.
The fractured topping out of the building provides the roofs with a useful space – private or communal- that are arranged as if it was another ground floor, but with improved views. The fragmentation brings a more spontaneous character to the built complex.
Exteriors
The construction employs conventional methods and systems but attempts to combine them so as to optimise its performance. The project has been focused on the thermodynamic properties, with the main goal to obtain the maximum profit from the natural conditions of its environment. This way, the concrete structure and the ceramic enclosures will create an inertial base to the indoor comfort. On the outer face, there is a continuous insulator under the coating layer; so that the holes will always be protected by adjustable light aluminium blinds, the roofs receive a dry construction system of pieces of pressed cement with incorporated insulation, forming a passable, breathable and draining set. Moreover, the pool situated on the roof will contribute to its thermal mass to the apartments below. The mechanical air conditioning will be done by air conditioning impulsion, with machinery connected to the "district clima" network, which runs through the same street.
Sustainability and circular economy
The mechanical air conditioning will be done by air conditioning drive, with machinery connected to the "district climate" network, whose route and service pass through the same street.
In any case, we think that good management of the natural features offered by the building's own architecture as a climatic mechanism will allow suitable conditions throughout the year, with hardly any need to connect the mechanical systems.
We hope that over time our building will add some value to its environment and adapt to it, allowing you to live comfortably in that corner of the city.