Residential building in Pau Claris Street
Barcelona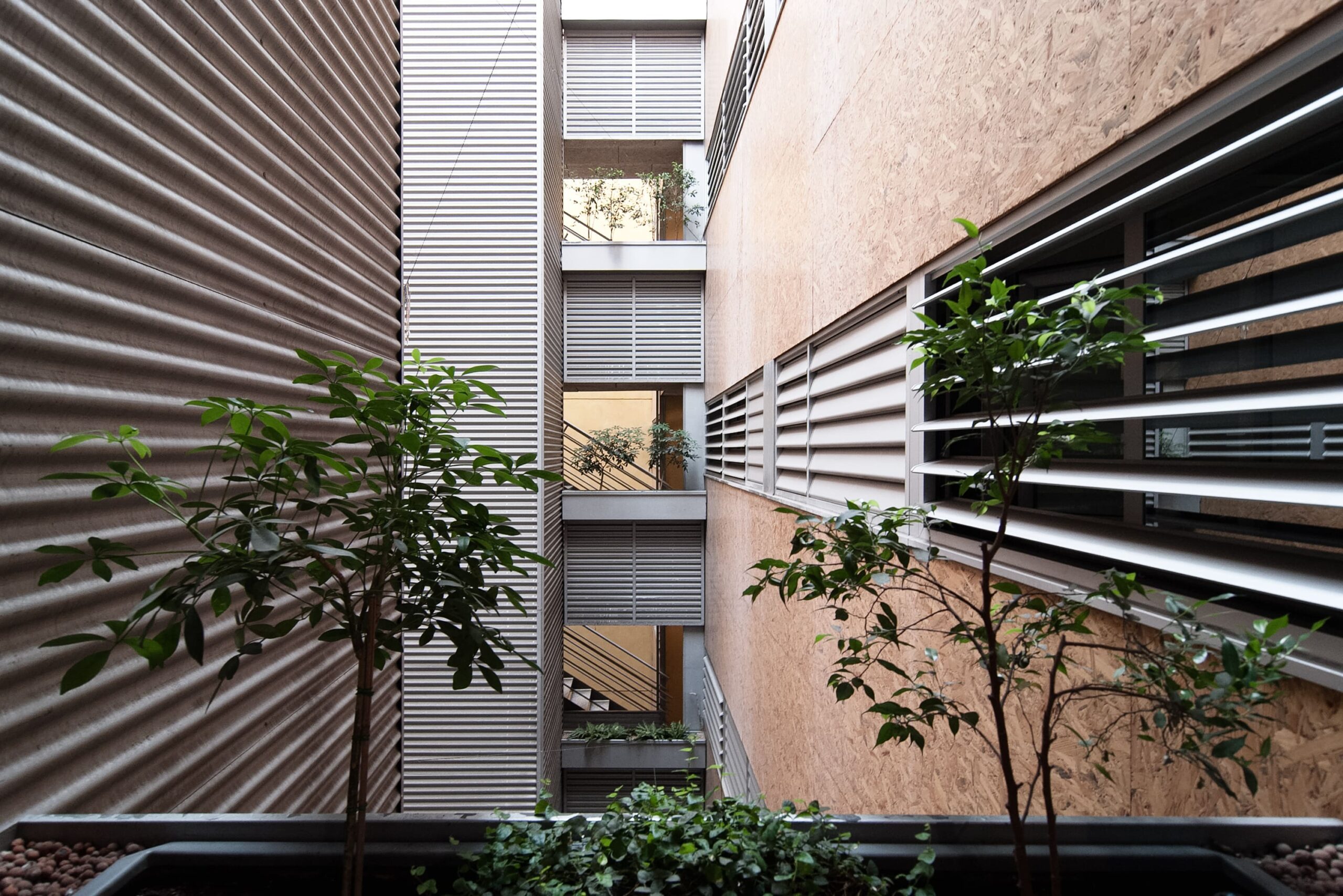 Project details
Location: Carrer de Pau Claris, Barcelona
Year: 2004
Surface: NA
Status: Built
Typology: Residential building
Category: Colaboration R+D, Applied sustainability
Energy simulation PROGRAM TAS.
Sustainable Development Goals
Purposeful analysis of bioclimatic and environmental aspects – Objective: a study of passive and active energy-saving systems
Project funded by the European Commission "Altener Program" to extrapolate and study the incorporation of passive and active energy-saving systems in urban areas.
– Integration in the urban surroundings.
– Use the ventilation patio as a great semi-public space with vegetation, a wind tunnel that canalizes the prevailing winds and creates a microclimate.
– Crossed ventilation in the apartments typologies.
– Façades that, according to its orientation guarantee thermal gains and losses according to the time of the year.
– Green roof with a water tank that stores the rainwater, acts as insulation, regenerates the environmental air, as well as making possible the reusability of the water.
– Use of materials with a sustainable life cycle, avoiding toxic components and using recycled materials.
– Analysis of the manufacturing and placement costs for a study of the energetic savings in the buildings.
– Selective storage of the domestic residues.
– Thermal solar energy. Positioning of collectors.
– Energetic efficient power facilities, centralization of the air conditioning and domestic hot water.
– Water-saving devices.
Work team "Altener Program": TIRONNE NUNES URBANISM, LDA with CEETA (Portuguese architecture, urbanism and energy team), EBO CONSULT with CENERGÍA (Engineering team / Architecture and Danish energy team), EMMA (Emilio Mitre, architect. Valladolid. Spain), PICH-AGUILERA, ARCHITECTS, S.L with INSTITUT CERDÀ (Architecture and energy team. Barcelona. Spain).